Higher education jobs at University of Delaware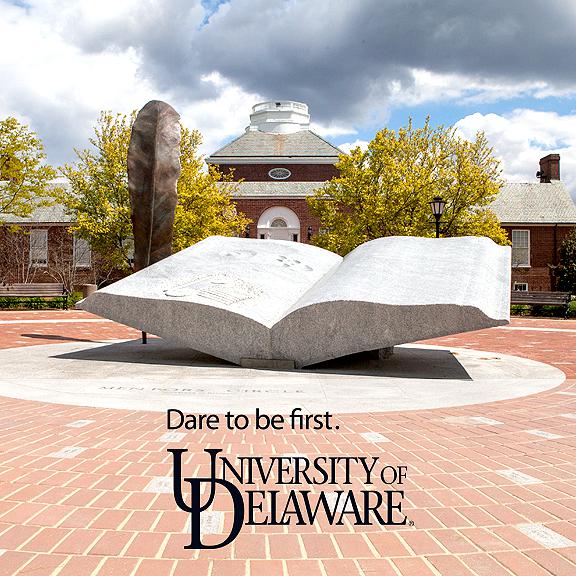 The University of Delaware has a great tradition of excellence, from our roots extending back to a small private academy started in 1743, to the research-intensive, technologically advanced institution of today.
Our alumni tell our story of achievement, from our first class, which included three signers of the Declaration of Independence and one signer of the U.S. Constitution, to the more than 154,000 living Blue Hens who are making vital contributions to the world. Vice President Joseph R. Biden Jr. and his wife, Jill, are both UD alumni.
The University received its charter from the State of Delaware in 1833 and was designated one of the nation's historic Land Grant colleges in 1867. Today, UD is a Land Grant, Sea Grant and Space Grant institution. The Carnegie Foundation for the Advancement of Teaching classifies UD as a research university with very high research activity-a designation accorded less than 3 percent of U.S. colleges and universities. UD ranks among the nation's top 100 universities in federal R&D support for science and engineering.
A state-assisted, privately governed institution, UD offers a broad range of degree programs: 3 associate programs, 147 bachelor's programs, 119 master's programs, 54 doctoral programs, and 15 dual graduate programs through our seven colleges and in collaboration with more than 70 research centers. Our student body encompasses more than 17,000 undergraduates, more than 3,600 graduate students and nearly 800 students in professional and continuing studies from across the country and around the globe.
Our distinguished faculty includes internationally known authors, scientists and artists, among them a Nobel laureate, Guggenheim and Fulbright fellows, and members of the National Academy of Sciences, National Academy of Engineering and the American Association for the Advancement of Science.
University of Delaware homepage: http://www.udel.edu
Showing 6 higher education jobs at University of Delaware.
Subscribe today
to be notified by e-mail about the latest Social Sciences positions!
---